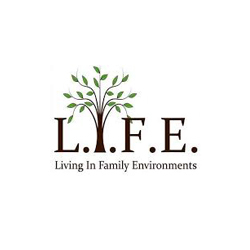 Caregiver / Direct Support Professional
Sorry, this job has expired.
Columbus, OH
Direct Care Professionals Supporting Adults and Children with Developmental Disabilities. L.I.F.E. (Living in Family Environments), Inc., is designed to enable persons with disabilities to live in the community in their chosen, least restrictive environment. We help families in need of rapid and convenient access to care for family members with disabilities. We have opportunities all over Central Ohio.

This position offers a great opportunity to make a difference!
You will receive a $100 sign-on bonus after 90 days of employment.

Pay based on experience. If you are qualified with no experience pay starts at $10.50/hr.

You will be responsible for:
• Working with adults and children with disabilities in family homes or supportive living sites.
• Providing personal care, meal preparation, housekeeping, transportation, and specialized development activities.

• High school diploma or equivalent.
• Related experience is beneficial, but not required - this is a great way to enter the healthcare industry! We provide extensive training.
• Reliable transportation.
• A valid driver's license with no more than 4 points.

We strive to provide services in partnership with disabled consumers and their families to facilitate effective care in the home and community.

We are an Equal Opportunity Employer.
12043